Recuperative Care
After discharge from hospitals, individuals experiencing homelessness often still need medical support and stability for their healing journey. National Health Foundation's recuperative care centers provide quality care to our neighbors experiencing homelessness, recognizing everyone is worthy of a dignified experience that centers their voice in their path to health and home.
Semi-private rooms with private bathrooms, showers and private lockers
While at NHF, guests stay in a home-like, clean, and safe environment.
TV in every room
Guests enjoy access to cable TV while at NHF.
Three full healthy meals a day
Delicious meals offered three times a day
24/7 Snacks
24/7 access to snacks
Access to computers, internet, phones
Access to computers, internet, and phones helps our guests in their transition to housing and health stability.
Free laundry facilities
Access to clean clothing is essential to the overall well-being of our guests. While at NHF, guests have full access to our onsite laundry facilities.
Access to clothing, shoes and personal hygiene items
Guests can access our FREE clothing store filled with new and gently worn clothing, shoes, and hygiene items.
Transportation to and from appointments
Just let us know when the patient is ready to discharge, and we will send transportation to come get them.
Compassionate, helpful staff including on-site nurses and social workers
Our dedicated staff provide quality care in a trauma-informed and harm reductive environment.
Social events, games and activities
Guests enjoy community events that bolster physical and mental wellness.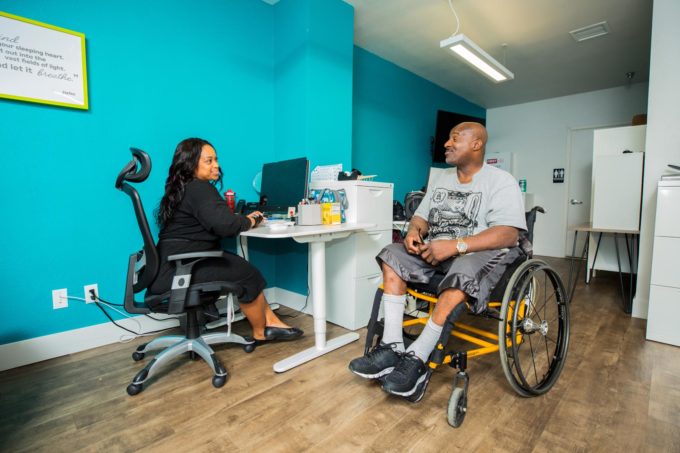 Twice weekly on-site medical clinic to see a doctor
Guests can access non-emergency, routine, or preventative care at our onsite medical clinic.
Weekly dental clinic
We offer free dental care onsite for our guests.
Our Impact
children and their families participated in South Los Angeles Park Pride Day planned and convened by NHF youth leaders
city and regional planners attended a presentation about NHF's youth-led park assessment recommendations at the Healthy, Equitable Land Use Network conference
per year in funding will be made available to eliminate park inequities in park-poor, low income neighborhoods as a result of Park Equity Alliance efforts